Remote research is a reliable and scalable way to get the insights you need to evaluate and improve user experience. When brands are transitioning to remote research, you need a partner who understands remote privacy and security, managing participants in new and diverse environments, and a team that is experienced in working and collaborating remotely.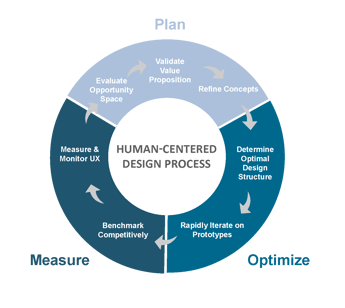 Remote research can be used to gather insights at every stage of development.

Remote research is not just about IDIs and unmoderated usability. UX research can help you answer questions at all stages of product development remotely. Learn more about our remote research toolkit.
We work with brands to reap the benefits of remote research, including:
access to a wider pool of participants
reaching participants who can't get to a physical lab
connecting with participants in their natural surroundings
testing on a wider range of real-world devices and platforms in context
AnswerLab's 130+ remote research experts
are constantly evolving our remote capabilities, tools, and practices to better meet your needs. We guarantee speed and reliability, ensure your team can watch sessions live, maintain open lines of communication for collaboration with our researchers,
provide seamless remote 'backroom' environments for collaboration
, and are
ISO 27001:2013 certified
with policies in place to keep sensitive prototypes and data secure.
Our Expertise
AnswerLab has been conducting remote UX research for 15+ years—it's in our DNA—and we're excited to share our tried and tested strategies honed over the years with you.
Our Remote Research Toolkit
Many common UX research methodologies can be conducted remotely using a simple webcam and the right tools. With a few small adjustments, you'll still answer all of your research questions virtually.
Flexibility and creative solutions can convert any of these methods remotely:
Accessibility research
AR/VR studies
Benchmarking
Card sorting & tree testing
Co-creation & participatory design
Concept testing
Diary studies
Expert evaluation/ heuristic reviews

Exploratory research
Focus groups
In-Depth Interviews
Custom surveys (panel or intercept)
Mobile testing
Ongoing UX measurement
Secure prototype testing

Unmoderated research
Usability testing
Workshops & stakeholder interviews
Custom qualitative research
Custom quantitative research
And more...
We understand that remote work and remote research can feel daunting, especially if you're attempting it for the first time. From video-conferencing platforms to task-specific tools for card sorting or storyboarding to digital diary platforms, there is a wealth of tools available to help you gather remote insights. But where should you start?
Our team is well-versed in how to communicate effectively and work efficiently in remote environments. With years of experience with a remote workforce, we've tested a plethora of third-party tools, platforms, and resources. We know when and how these tools work best (and when they don't), so we can customize and tailor solutions that meet your remote needs.
Our team approach ensures worry-free remote research


Fully managed participant experience
Logistics experts responsible for recruiting, ensures correct project setup and smooth execution of research in remote environments


Research technology and IT experts
Technology professionals with years of experience with remote UX research, who ensure data security and privacy, with a robust third party technology toolkit

Best-in-class research execution
Our methodological experts ensure project objectives are met, moderate with excellence, and create strategic, actionable deliverables