As 2019 comes to a close, we're taking a moment to reflect on how UX research evolved this year. Across clients, industries, and projects, we saw several prevalent trends that express the growth of the industry, our growth, and the growth of your teams and roles.

Accessibility and inclusivity moved to the forefront.
This year, we saw the landmark case regarding Dominos' site accessibility go all the way to the Supreme Court, ruling in favor of a man with vision impairments who sued Domino's for failing to provide an accessible online experience. Now more than ever, creating accessible experiences is critical for brands. It's not only the right thing to do, but also a legal requirement.
We saw a surge in interest in accessibility research from our clients and the UX community this year, and we conducted our own primary research to develop new best practices for creating inclusive research and products. Our projects involved users across the world, keeping global perspectives at the forefront of many of our clients' minds, and we worked even harder to conduct research in increasing numbers of rural and urban areas across the United States to reach people from a diverse set of backgrounds, locations, ages, economic statuses, and more.


---
The demand for research is increasing. How can we meet it?
Throughout 2019, we heard a lot about the demand for user insights growing while companies continue to question how to successfully deliver on that need. We believe user insights should inform every step of the development process, but you need to start by creating a culture of UX research at your company.
At AnswerLab, we don't just conduct UX research. We also help our clients unlock efficiency and save on costs through autonomous research programs, workshops to help UX leaders scale their research organizations, andtrainings for UX teams to uplevel their skills. This year, we hosted a panel with UX experts on how to meet this demand, helped companies expand their programs of research, and shared client stories of growth and scalable research at both Forrester CXNYC and Forrester CXSF.
---
Keeping an eye on the state of emerging technologies is critical.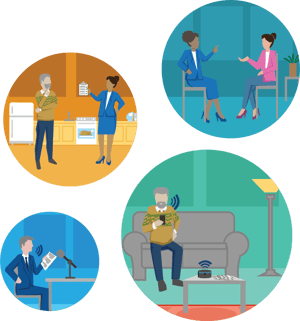 Whether you're a researcher, product manager, marketer, or designer, you've heard talk about conversational chatbots and voice interfaces as the next frontier of consumer engagement. Last year, we conducted primary research on digital assistants and chatbots which informed many conversations this year. Throughout 2019, we spoke at conferences, talked to clients, and shared insights with the UX community to continue the conversation.
With new technologies come new demands for research!
This year, we experimented with new ways of reconfiguring our labs and testing in the field to successfully study new and emerging technologies. From living room set-ups to Wizard of Oz testing in our labs to in-home visits, our team gleaned new insights in a variety of contexts.

We hope you have a restful holiday season and a happy new year! Stay in touch with us in 2020 for more insights and news from our Research Team.
---