Upcoming Events
AnswerLab hosts UX research events and panels throughout the year and speaks regularly at national conferences.
AnswerLab Events: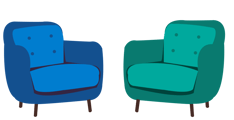 October 23, 2018, 8:30-9:45am
Salon Session: Quant for Qual Researchers
San Francisco, CA
Are you a qualitative researcher who's curious about quant research? Join us for breakfast in our San Francisco office to hear from our expert panelists about when to use quant research, common methodologies and major challenges, and tips and tricks to get you started.
RSVP or Learn more about Salon Sessions
November 7, 2018, 9:00-10:15am


Salon Session: The Ethics of AI
San Francisco, CA

More details coming soon. Learn more about Salon Sessions


Conferences and Events:
Thursday, October 25, 2018


Access For Success: A Conversation on Business & Reproductive Rights

San Francisco, CA
Join NARAL for breakfast and an intimate panel discussion on the intersection of business considerations and women's access to reproductive rights. AnswerLab CEO and Founder, Amy Buckner Chowdhry, will be speaking about AnswerLab's commitment to paid family leave and creating a thriving workplace for its employees. Learn more.
October 25-26, 2018


XD Immersive 2018
San Francisco, CA
XD Immersive is the premier international conference for immersive experience design. Sessions will cover the latest developments in VR/AR/AI/Voice, focusing on the UX, design, and business use cases. We'll be at the conference to bring key takeaways back to our team and clients. Learn more.
November 28-30, 2018


TedWomen 2018
Palm Springs, CA
TEDWomen brings together a global community of people interested in exploring how change begins: with innovative thinkers who catalyze ideas toward action. This year's event will celebrate how these dynamic and diverse people are showing up to face challenges head on. Learn more.