A leading online retailer asked us:
How can we best serve customers who receive SNAP assistance? Would they rather shop for groceries online or in-store?
The U.S. government spends roughly $68 billion a year to help over 40 million people and their families buy the food they need through the SNAP assistance program. With such a significant percentage of the population making purchases with SNAP assistance, our client wanted to understand if their online shopping platform was meeting their needs.
Our client team wanted to understand what mattered most to SNAP assisted buyers and to explore the pain points of what both in-store and online shopping looked like to them. Ultimately, we set out to develop best practices to ensure SNAP assisted shoppers could successfully make their purchases through their online store.
We answered:

AnswerLab developed a study with shoppers who receive regular SNAP assistance to uncover their perspectives and behavior towards shopping in-store and online.
We conducted one-on-one in-depth interviews with participants across a variety of ages, income levels, educational backgrounds, and more to learn how they approached shopping in their daily lives and what was important to them when shopping online.
In the sessions, we explored obstacles to using SNAP benefits in the client's store through guided exploration and tasks. To keep context consistent, participants browsed the store on the device they would normally use to shop online for groceries.
Outcome:
Our research showed that participants wanted to shop online using SNAP but faced some obstacles understanding which products were eligible, how much would be charged to each card, and more.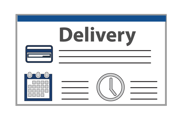 Participants wanted to easily see which products were eligible for SNAP and which weren't to help them stick to their budget and shop more efficiently.
We identified several critical issues that prevented users from identifying which products were SNAP eligible. Things like inconsistent placement of information, poor filtering, and lack of feedback frustrated participants. Our recommendations offered clear and prioritized solutions to help our client eliminate these pain points and create a better experience for this population.