You're at the end of a project. You've just talked to a group of users and discovered incredible insights. How do you share the value of those findings with your colleagues and advocate for your company to develop an even better product? You've spent time and money to get those insights--don't stop there if you want to ensure you get the most value from your efforts.
One way we ensure our clients get the most value from research is by facilitating activation workshops. As a strategic partner, AnswerLab uses workshops with clients to bring research findings to life, build stakeholder alignment, prioritize research recommendations, and outline a roadmap that leads to desired business results. When you're considering a workshop, remember that every study is different and workshops are highly customizable, allowing you to choose the types of outcomes you and your team want to achieve.
Workshops provide tremendous value when you need to: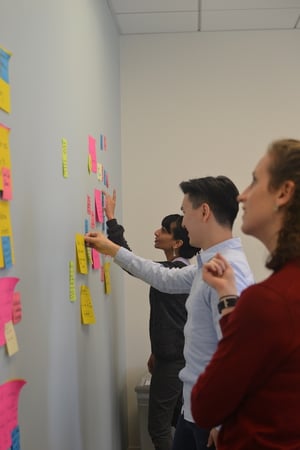 Prioritize
When you're dreaming up new functionality and features, it can be difficult to decide which features should take priority. Using a workshop setting to discuss the findings, ideate on prospective functionalities, and prioritize development resources can help you definitively plan your next steps.
Build empathy
Teams can lose sight of who they're designing for and sometimes customer needs change. Your study may have resulted in epiphanies about new populations, and it's crucial your next steps address those findings. Workshops can help your team orient themselves to the end user and gain a better understanding of people who may be vastly different from them.
Pivot
It's not always obvious how to course-correct when a product or property isn't meeting business goals. Developing a game plan for your next steps is crucial, but new findings often shift how we approach our product development. In order to successfully match new functionality to real user needs, our researchers facilitate conversations to help regroup around the findings and guide your team through these tough decisions.
Here are two common frameworks we've used to address these scenarios:

Ideation and Prioritization Activities
When developing your road map for new products, you must consider the effort, expense, and resources that go into each feature to prioritize their development. By discussing the ease or difficulty of implementing each new feature while keeping the research findings in mind, your team can successfully prioritize next steps. In this setting, a team might uncover an easy addition to the product that fixes a pain point and rearrange their road map to represent those fixes.
Empathy Exercises
Workshops can include a variety of exercises or activities to help teams gain a deeper understanding of the user and identify gaps in functionality. Empathy exercises use roleplay and persona maps to better understand customer wants and motivations, forcing your team to begin thinking about solutions to help a specific user. You might take on a persona that's been uncovered in the research, walk through plausible scenarios, and get closer to the user experience you're trying to create.
There are many other workshop methods and ways to benefit from them. The one that works best for you will depend on your context and goals.
Here are a few more ways we've used workshops to help clients multiply the value of research:

Educate and share research best practices for internal teams
With so many methodologies and processes, research can be complicated. Use a workshop to equip your team for upcoming projects with a high-level overview of the research methodology or a training around how to be a better research partner. This guarantees your team has the tools it needs to move through a research process swiftly and efficiently.
Develop your research plan
When you have a research project coming down the pipeline, it can be hard to know where to begin. A facilitated workshop can help you think through the questions you need to answer and ensure you map out a plan that will provide the insights you need. Only then, can you employ the appropriate methodologies in the most efficient and effective ways.
Analyze and design in tandem
As designers begin to implement research findings, questions can arise that the researcher has an understanding of, but may not have been relevant to the original research report. In this setting, the researcher is available to designers as they begin to make progress on the prototypes so they can ask questions, discuss their ideas, and brainstorm ways to meet user needs with functionality in real time.
Learn more about how workshops can amplify your research and increase your return on investment.