To keep building better products and help stakeholders see the intrinsic value of your research, it's important to showcase your insights and help your team stay connected to the end-user. Often referred to as 'socializing,' taking a thoughtful approach to how you share research findings can make the difference in how much you can influence how your products develop.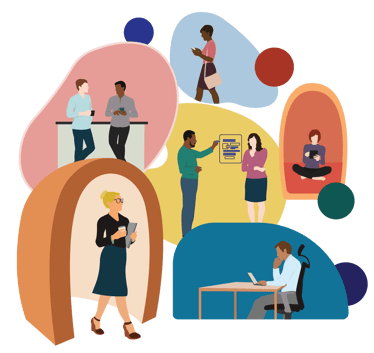 PDFs and PowerPoints give your research findings a strict and limited shelf life, so find ways to make them live beyond the final report. This can take a few different forms from email summaries to video clips to interactive workshops. We've even heard of researchers creating swag items with participant quotes on them! There are many ways to showcase your findings, and getting creative with your approach can help you make a big impact.
We're always considering new ways to make insights clear and shareable, while building real empathy across stakeholders and product teams. Here are a few methods members of our team have used recently that can make a real impact for your internal research initiatives:
1. Make the process interactive
If you want to create a quick and easy way for stakeholders to better understand participants, start with creating a Slack channel or message board in a favorite internal tool to share nuggets of insights.
During sessions, you might post high-level insights, surprising findings, or particularly impactful participant quotes. While you're reporting, consider posting short video clips from sessions to give stakeholders quick and digestible pieces of research rather than asking them to watch an entire session. Shorter video clips can also be shared with leadership or executives to build empathy when time is precious.
2. Introduce executives to their customers
Consider hosting a monthly customer day where executives and stakeholders can actually meet their customers and observe research. We recently worked with a client to hold remote focus groups to help their product teams build empathy with their small business customers. Stakeholders attended the monthly focus group facilitated by our UX research team to hear and understand their customers' needs.
To help drive engagement and attendance, we created short customer profiles before each session to help our clients learn about the participants and their small businesses prior to the sessions. These profiles encouraged stakeholders to attend by driving interest, but also helped them get familiar with the folks they were about to observe. Getting them closer to their end-users prior to and during sessions helped build empathy for the participants. Think of it as the way people get invested in well-developed characters in a story.
3. Enable stakeholders to hear, rather than read participant stories
Sometimes it's difficult for stakeholders to observe sessions due to busy schedules or different time zones. Creating short video clips or even compilation reels can be a great way to build empathy while keeping the time commitment short. For one project of ours, we recontacted star participants across a few studies and re-interviewed them with a higher quality videography set-up to create professional reels for all-hands meetings. This helped socialize key stories and findings and develop empathy across the whole org. If you can't do this, just pulling clips from your sessions can be a great start! We've heard from many client teams that actually hearing people share their thoughts can be much more impactful than reading it on a page.
4. Showcase findings through shareable insights cards
To make findings digestible and focused, try creating standalone persona cards or fact sheets. We recently worked with a client to help them understand how to create an app experience that was more inclusive for users who identified as women. Building empathy and telling real participant stories was critical to success. To bring the findings to life, we created a set of insights cards for app developers to understand high-level insights on their different features. Each card pulled from recent diary studies, IDIs, and quant data to share participant feedback on specific app features and their experiences using them. They detailed key attributes and improvements participants were looking for to help designers and developers understand where to focus.
Our team also built custom illustrations based entirely on participant feedback to accompany the cards and bring the findings to life. Make sure you create cards that are standalone and don't need very much explanation. They should simply synthesize relevant findings for the right audience.
5. Feature your "star participants"
To help shine a light on participants who share particularly impactful insights and compelling stories, create a star participants database in your favorite online collaboration tool (Google Sheets, Airtable, etc.). Create columns for the name of the participant, the study or project name, a link to the session recording, any relevant topics, and a "Why watch this session?" description. This kind of tool helps stakeholders scan quickly for session recordings they may want to watch on specific topics or stories. The "Why watch this session?" column can help make the case for them to carve out the time to watch the recording.
However, there are a few special considerations here, including any PII concerns, who has access to the database, how easy it is to link to session recordings, and even inclusivity concerns. To be inclusive of your diverse range of users, make sure you identify star participants from a variety of backgrounds and perspectives. It can be easy to let unconscious bias take over and pick participants who think or speak the way you do, but this can be harmful and only shows one dimension of the story. Be intentional about showcasing an inclusive range of perspectives for your stakeholders to observe.
6. Give stakeholders a preview of the findings
Experiment with writing up a short end-of-day research summary for your stakeholders or product team. At the end of your sessions, shoot them an email with high-level findings, any particularly fascinating quotes, a report out on who you spoke with, and the next steps for this project. These quick reports can keep stakeholders in-the-know about your research plans and help them stay connected to the work (and your users!) even if they're not observing sessions each day.
7. Explore workshops, role play activities, and persona maps
Teams can often lose sight of who they're actually designing for. Workshops, even remote ones, can help your team orient themselves to the customer, build empathy for people who may be vastly different from them, and internalize the insights. These are also especially helpful if you're hoping to build a roadmap for future research and development.
Try using empathy exercises like role play and persona maps to better understand customer wants and motivations, encouraging your team to begin thinking about solutions to help a specific user. You might take on a persona that's been uncovered in the research, walk through plausible scenarios, or brainstorm improvements to the user experience for the target audience.


Looking to increase your influence within your company through socializing your findings? Over the years, we've learned what makes a successful, effective, and mature UX practice. Take our quiz to uncover opportunities for growth and create an advocacy plan for you and your team.