Consumers rely on digital channels to research new credit cards and to manage their existing accounts. And banking consumers can be fickle, researching and applying for new accounts frequently.
To hold onto credit card customers, you need to meet and, ideally, exceed their digital experience expectations.
These 15 design best practices will help you improve the digital experience of your credit card sites.
STREAMLINE INFORMATION
Consumers browse, research, and compare options when shopping for a new credit card. These tactics to streamline information help guide consumers towards faster, easier decisions - and into the card application process.

Disclose information progressively.

Use accordion formats or hover-overs to allow consumers to view information as needed. Too much fine print all at once is overwhelming. But too little information can give the impression that an institution is being deceptive or deceptive. When consumers access information at their own pace they absorb more, feel more in control, and are more likely to stay focused on the task.
Provide credit card matching tools

. Consumers appreciate tools that allow them to narrow down their options. Providing tools - such as short quizzes - to generate card recommendations that meet individual goals (are rewards the most important factor, or a low APR?) increase consumer confidence in the card selection process.

Design easy-to-read comparison charts

. Charts should allow consumers to quickly scan and evaluate features (APRs, rewards, fees) side by side. They should be easy to read with large, bold fonts, clear delineation between tables and cells, and use concise language.
Be clear about fraud protection.

Consumers know no one is immune to identity theft in today's world and want assurances that they won't be held liable for fraudulent activity. Clearly communicate protection policies to increase consumer interest and confidence in applying for a card.
Make getting help easy.

Consumers want quick answers. Sites with easily discoverable help, FAQs, and customer service content prevent visitors from getting frustrated and abandoning card research and application. Make these sections easily accessible from the homepage and label ambiguous icons.
EDUCATE WITH VISUALS
Showing is more impactful than telling - visual examples help consumers understand complex information. The higher a consumer's comfort level with their knowledge, the more confident they feel selecting a card.
Provide rewards and savings calculators

. Easy to use calculators demonstrate card benefits in a personalized way. Simple visuals increase comprehension and the likelihood a consumer will apply for a card.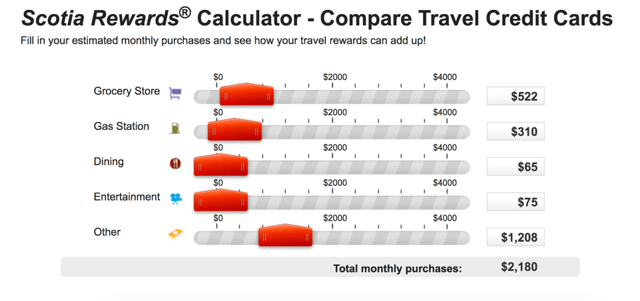 Demonstrate card management tools.

Consumers want cards that provide tools for tracking and managing their spending. If you have these tools, show sample visuals to drive deeper engagement.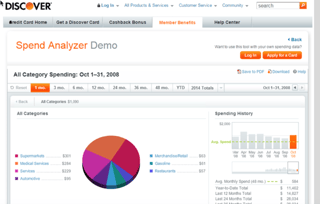 SIMPLIFY THE APPLICATION PROCESS
Once a consumer selects a card online applications need to be quick and easy. Increase application submissions by applying these design best practices.
Use prominent and consistent calls to action

. Once consumers have selected a card, they look for clear calls to action to take the next step and apply. Provide easy-to-find, one-click calls to action using consistent placement and design.
Orient consumers with visual progress indicators.

Consumers get frustrated if they don't know how long it may take to complete an online application or when the application process feels lengthier than expected. Design features like progress bars help to manage expectations and minimize fatigue.
Optimize forms for mobile

. Consumers are comfortable providing financial information on mobile devices. Mobile-friendly application forms meet users where they are, allowing them to apply wherever and whenever is most convenient for them. Reduce mobile application abandonment by surfacing the right keyboards and auto-advancing from field to field.
Instill confidence

. Consumers want to know their credit card provider is protecting their personal financial information throughout the application process. Build brand trust by providing clear and prominent information about security measures.




MAKE IT EASY
Consumers want to manage their finances on-the-go and they expect brands to keep up with them. Increase engagement with your credit services by making it easy for customers to access what they need no matter their context.

Allow for seamless experiences no matter the device.

Whether checking a balance while waiting for the train or paying a bill from home, consumers expect a seamless experience. The brands that deliver the best customer experience understand how their customers approach tasks on desktop vs mobile, and provide the right features at the right times.
Take advantage of the latest technologies to remove friction.

For example, using biometric data can provide consumers with options that minimize keystrokes, such as swipe access/fingerprint recognition in lieu of passwords, and one-touch payment options.
HIGHLIGHT CARD BENEFITS
Once you have new card members, keep them coming back. Consumers stop using cards when they don't know about (or remember) benefits and when they can't easily track and redeem rewards.
Surface card benefits up front

. Consumers are delighted to learn their card has unexpected benefits. Don't miss this opportunity to differentiate yourself - if you have a reward or benefit that's different than your competitors, put it out there. Consumers who take advantage of their card's benefits are more likely to be loyal to that card.
Clarify and simplify reward management.

Complicated redemption rules can lead consumers to stop using a card. Rewards aren't a compelling enough reason to stick around if the process for redeeming them is overly complicated. Likewise, a confusing reward redemption experience can turn consumers off. Card customers struggle when reward management takes them to external pages that don't look like your brand pages. Ensure a good experience with rewards pages that align with your branding and use calls to action.
If you found these financial services design best practices useful, check out our recent insights for improving bank customer loyalty: 5 Customer Journey Improvements Increase Bank Customer Loyalty. For AnswerLab's latest UX best practices delivered straight to your inbox, subscribe to our monthly Insights newsletter below.