Healthcare providers (HCPs) are accessing digital content from a number of sources every day to do their jobs faster and with confidence. Pharmaceutical companies can engage and build trust with healthcare providers (HCPs) by meeting their needs for medical content. When pharmaceutical and biotech companies get digital right, healthcare providers get the information they need and patients are better served.
At AnswerLab, we've been partnering with pharma and biotech companies to help them create successful digital experiences for more than 10 years. Our research insights have helped our clients develop, optimize, and measure the impact of digital properties such as patient and HCP websites, tablet apps, reimbursement portals, and company intranets.
Many of our research insights are specific to drug brands or disease areas. But we've noted some common findings about branded pharmaceutical websites that are transferable across brands and therapeutic areas. These findings are rooted in some commonly held myths about the needs and expectations of HCPs. It's time to debunk five of those myths.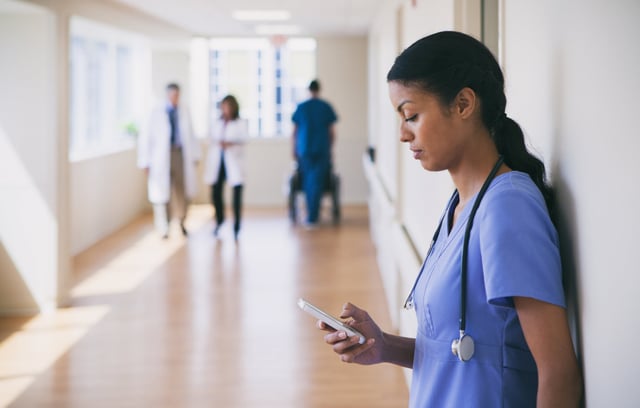 Myth #1: HCPs trust branded sites
As a marketer you might think that HCPs regard your site the same as any other source of product information. Our research shows that isn't the case. Many HCPs have a strong mistrust of drug manufacturer sites, which they view as biased. They have an aversion to sites that feel like marketing campaigns.
Build trust by providing assurances throughout the site that the content is trustworthy and objective.
Tactics to build trust:
Convey a neutral, unbiased touch by minimizing the real estate dedicated to marketing campaigns on the homepage.
Make sure content has a clinical tone.
Provide a link to Prescribing Information (PI) at the top of the site page or within the navigation to meet HCP expectations.
Link to full clinical trial papers to reinforce that all site content represents scientific, objective data.
Myth #2: Visitors will stay a while
It's a common misconception of marketers that HCPs spend a lot of time on branded sites. In reality, HCPs often only have a few minutes to conduct research on sites. They place great value on efficiency and show disdain for experiences they perceive to waste their time. In our research HCPs share with us that they waste time digging for desired information on drug manufacturer sites, while finding information on other favored sites (UptoDate, PubMed, Medscape, etc.) takes less time.
Help HCPs efficiently find the information they care about most by presenting content in a clear and transparent way.
Tactics to help HCPs meet goals with limited time:
Clearly delineate between HCP and patient sites early on in the experience to guide HCPs to the appropriate site.
Include the most desired content - dosing, safety, and mechanism of action (MOA) - within the primary navigation.
Use simple terminology (e.g., About, Dosing, Safety) and avoid abbreviations (e.g., MOA) within the navigation. We often see HCPs overlook acronyms and clinical jargon when they seek information.
Distinguish safety information from primary content.
Use charts to communicate dosing and adverse event information

.

Include a search tool that yields intelligent results. If no specific results can be found, state so explicitly. HCPs value a search bar but they expect it to perform like Google. If the search bar doesn't meet expectations, it becomes a hindrance.
Use video only when necessary (e.g. showing new administration methods). Video slows down HCPs, leading to frustration.
Avoid using video as the sole mode of sharing a piece of information.
Myth #3: Visual storytelling is important
Marketers and their agency partners are skilled at creating visually appealing and engaging sites. There is a tendency to think that the site needs to look polished and beautiful with large imagery, photos, and brand visuals to encourage an HCP to engage with a drug brand. In reality, HCPs want branded sites to work more like Google, so they can extract the desired information quickly and get out.
Take a more clinical, text-focused approach.
Tactics for effective visuals:
Opt for a clinical look over a flashy advertising look.
Focus more on text than visual imagery, but keep it short and bulleted.
Reserve visuals for content that will help HCPs the most. In our research, HCPs react positively to seeing visual representations of the administration method so they can quickly see how the medication is administered.
When using visual imagery, HCPs prefer realistic imagery that accurately represents a condition or treatment. If they see an image of a patient, they want him/her to look like an actual patient and not like a model. They particularly appreciate MOA imagery.
Myth #4: Efficacy first

You're excited about your efficacy data and you think HCPs will be, too. In fact, our research shows that HCPs are most interested in content related to dosing, safety, and MOA on pharma sites. If they are looking for efficacy data, they will seek third party sources (like UpToDate).
Provide the right content at the right time.
Tactics for meeting content expectations:
Highlight content related to dosing and MOA.
Invest in a usable dosing calculator. HCPs get excited about dosing calculators, and these calculators make their jobs more efficient. Every site has them, but some have room for improvement while others delight.
Myth #5: Set it and forget it
You might think you're done once you have built or redesigned your branded site. However, our research shows that HCPs are more likely to visit drug manufacturer sites for new content, such as information about a new drug or administration method.
Update your site with new content in a timely manner.
Tactics for updates:
Showcase drug updates by providing prominent links to new clinical data, approved indications, or methods of administration on the homepage.
Highlight new information so returning visitors immediately see changes and additions.
Consider drug maturity when designing the site architecture and determining the relative prominence of content. For example, display content that teaches about the drug (e.g., mechanism of action, recent clinical data) more prominently for new drug sites.
Allow users to contact sales representatives with minimal effort, particularly for new drugs.
I'd like to challenge you to think about what assumptions you may be taking for granted. Keep these assumptions in mind the next time you update your HCP site.
Want to learn more about the UX of healthcare? Check out The Healthcare Industry Must Navigate Privacy When Designing for Voice.