In 2021, it's estimated there are be 2.725 billion gamers worldwide, up from 2.341 billion in 2018. Games are played, watched, and streamed on different screens and consoles, with different game-types, gaming communities, and styles of play, from free-to-play to pay-to-play--the list goes on. The big question is, as user experience researchers, how do we account for so many variables and this level of rapid change? Here at AnswerLab, our research team has developed some best practices to help keep us focused on the players and streamers that make up this ever-growing industry. From usability to playability, recruiting to research, how can brands keep up?

Understanding Your Audience



Recruiting for Diversity: Screening & Surveys
We all have an image of what a "gamer" or "streamer" looks like in our minds, whether it's a kid in their basement playing Street Fighter, teens at an arcade playing Ms. PacMan, or a headset-wearing adult deep in a game of World of Warcraft late at night, an image comes to mind when considering video games. The best way to redefine this common mental model as a researcher is to start by screening for a nuanced audience when recruiting participants. There's immense diversity within the gaming community, and our research must reflect that in order to create experiences all gamers love.
With the variety of types of games, subjects, and consoles, gaming audiences today are much more diverse in age, gender, and lifestyle. Start with what games they play and why they like to play them. Address high-level details like what consoles they use, how often, and when they play or stream. Build a more accurate and diverse definition of "gamer" through these initial survey questions.
Explore Player Wants, Needs, & Motivations
Aren't games about having fun? In short, yes. But, there's more to it. It's important to understand the wants and needs of your audience by diving deep into their motivations for playing. Why do people play games? You can capture this through the initial survey, however, a deeper dive is necessary to get the real answers--preferably done in a one-on-one interview conversation.
Start with who's involved in their gaming experience: Who do they play with? Is it social? Is it personal? Do they prefer to play alone? Do they play with the same people every time? How do they interact with people outside of the game if at all? While we tend to think of gaming as a solitary experience, often users want to connect with others streaming games via social media or chat rooms. To meet these needs and others like them, spend time iterating on how to make it easier to foster connection and community with your game.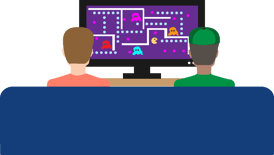 It's important to understand your audience, and the best way to do that is to play the game yourself! It may seem against our "researcher better-judgment" to look too closely to the stimuli and unintentionally develop our own usability concerns, however, it's important to speak the right language when studying these products and can help immensely in building rapport and trust with your participants. It's not about "winning" the game, just getting the gist and understanding the terminology and goals.
"I always keep up with gaming news, whether it's new releases, updates, what's popular. I even play the games because it helps me build rapport with participants; lots of gamers are really into keeping up with trends in the industry, so knowing what you're getting into really helps."
- Alex Lee, UX Researcher, AnswerLab
Getting in Front of Gamers

Observing Their Environment: Tools, Interactions, and Player Communication
When conducting research, it's especially important to be where the audience is, observing how the user plays a game, streams a game, or creates gaming content on a regular basis will provide critical qualitative data necessary to design the best experience.
"Their excitement about the game, and the way they let me into their world and talked about things candidly, and they really thrived in this role as an expert--I suspect that we wouldn't have gotten that in a lab setting."
- Emily Singer, Principal UX Researcher, AnswerLab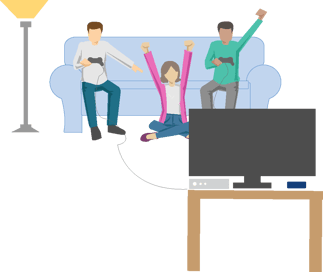 There are many elements to look out for when researching for the gaming industry: participant reactions, habits when playing, gaming set-up, context, and more. We've seen the advantage of using in-person ethnographies for these types of studies. That way, you can look for these elements yourself without disturbing the conversation flow--what controls are they using? What screen or controller works best for them in their home environment? What's their environment like? How do they react to the game (both verbally and through body language)? Accounting for the full gaming experience provides an exceptional amount of insights crucial to developing great games.
Planning Ahead: Building Rapport, Setting Context, and Capturing Unspoken Language
Like I mentioned above, sometimes playing the game prior to sessions helps you gain an invaluable understanding of the product and general terms that show up frequently within it. This type of prep helps our researchers establish a relationship with the user. Because of the researcher's baseline knowledge and comfort in talking about the game, the participant won't feel like they have to explain every detail to the researcher which can distract them from focusing on playing the way they normally do.
"Having them talk about something they are interested in and being present in their environment really lets their excitement feed into the research--something that would have been lost in a more artificial setting."
- Emily Singer, Principal UX Researcher, AnswerLab

We've found that the structure of the study is equally as important as the conversation itself. It's easy to get caught up in everything that the participant says or does, but it's best to set the context of the conversation to streamline your research. Have them start by playing and encourage them to talk through what they're doing. If they express things related to their ability to win the game, or other thoughts irrelevant to the study, let them know. Give them time to get used to the questions you're asking and what you do or do not need to know. Then, dive into more in-depth topics.
One of the best things about in-home research is the ability to capture the participant's expressions, reactions, and physical movements that they may not be able to describe, but frequently do while playing. Seeing these unspoken languages in real-time allows the researcher to improvise when appropriate and capture valuable feedback otherwise unseen.
Defining Research Goals

Usability vs Playability - What, Why, and How?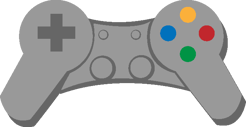 Speaking of trends, figuring out how to define playability vs. usability is highly debated within the gaming community. It's a huge topic that's in constant flux, so we'll just scratch the surface of it here.
Usability is more closely related to accessibility. Can the user physically play this game? Do users know how to get from point A to point B? Usability in the context of games needs to account for the diversity of players and must work towards the inclusive design of all elements from controls to UI.
Playability answers questions like, is the game buggy? Is one button used for different things that may cause confusion? For example, is the user's avatar supposed to be standing inside a wall, or is that something it shouldn't be able to do? Does the character jump when the user is actually trying to open a chest because "jump" and "interact" are mapped to the same button? Does the game glitch when performing certain actions?
To combat this ever-changing terminology, have conversations about the goals of the research. We create research plans that account for our clients' needs and tackle playability and/or usability depending on where they are in their design process.
Change is inevitable, but researchers can't fall behind.
Keeping up with the trends of this industry can feel overwhelming at times, but we believe these best practices help researchers stay afloat.
Looking for more gaming research resources?
We love talking about gaming. Want help getting insights about your gaming experience? Contact our team