Posted by Anthony Guarriello on Apr 6, 2022
As an occupational therapist specializing in assistive technology and neurological conditions (who now works in UX research), I worked with many patients who attempted to regain a sense of normalcy following illness or injury through desired activities that gave their lives meaning. One of the most requested activities my patients wanted to get back to was gaming.
Gaming has become a commonplace activity that provides so much more than an oftentimes needed escape from reality. Gaming can instill a sense of self-efficacy and accomplishment, provide opportunities for socialization, improve problem solving and reaction timing, and perhaps most importantly, boost mood and creativity. With accessibility becoming a hot topic in the UX community, I wanted to ensure typically underserved populations are getting the attention they deserve to improve their access to this adored pastime. Let's take a look at what advancements have been made in the gaming industry.
Physical Impairment Considerations in Gaming
When someone who loves gaming loses the opportunity to do so following an illness or injury, it can be devastating to their mood and psyche. We must ensure gaming is an equal-access activity for all of us. UX places a significant focus on vision disorders, hearing disorders, and cognitive disorders. This often leaves physical disorders underrepresented or misunderstood as to how UX design and research can help.
Disorders and injuries that impact a player's ability to use a controller can include cerebral palsy, spinal cord injuries, traumatic brain injuries, burns, trauma (i.e., motor vehicle accidents, crush accidents, loss of limb), muscular dystrophy, and even conditions such as arthritis and carpal tunnel syndrome. These impairments impact players of all ages, and can sometimes require more than just software accessibility options and controller mapping, but also assistive technology and specially designed controller hardware. Increased difficulty with upper extremity pain, fine motor control, dexterity, sensation, and hand strength are just some of the few symptoms that may impact gaming.
Innovations in Gaming Accessibility - Where Are We Headed?
Accessibility in gaming was behind the curve for several years, but that all seemed to change in the past 5 years. One area to keep an eye on is the development of adaptive gaming controllers, which brings with it a swath of untapped potential for new insights and designs.
No one can play a game if they can't use their controller! Let's explore current options among "the big three:" Playstation, Xbox, and Nintendo. Then we will dig into additional options from third-party companies. You might be surprised by what we find there.
Xbox's Holy Grail of Adaptive Controllers
It's safe to say that Xbox is the current leader in adaptive gaming controllers. If you haven't met already, please allow me to introduce you to the Xbox Adaptive Controller (XAC). Released in 2018, this controller set the standard for major gaming companies directly developing adaptive controllers for their own consoles.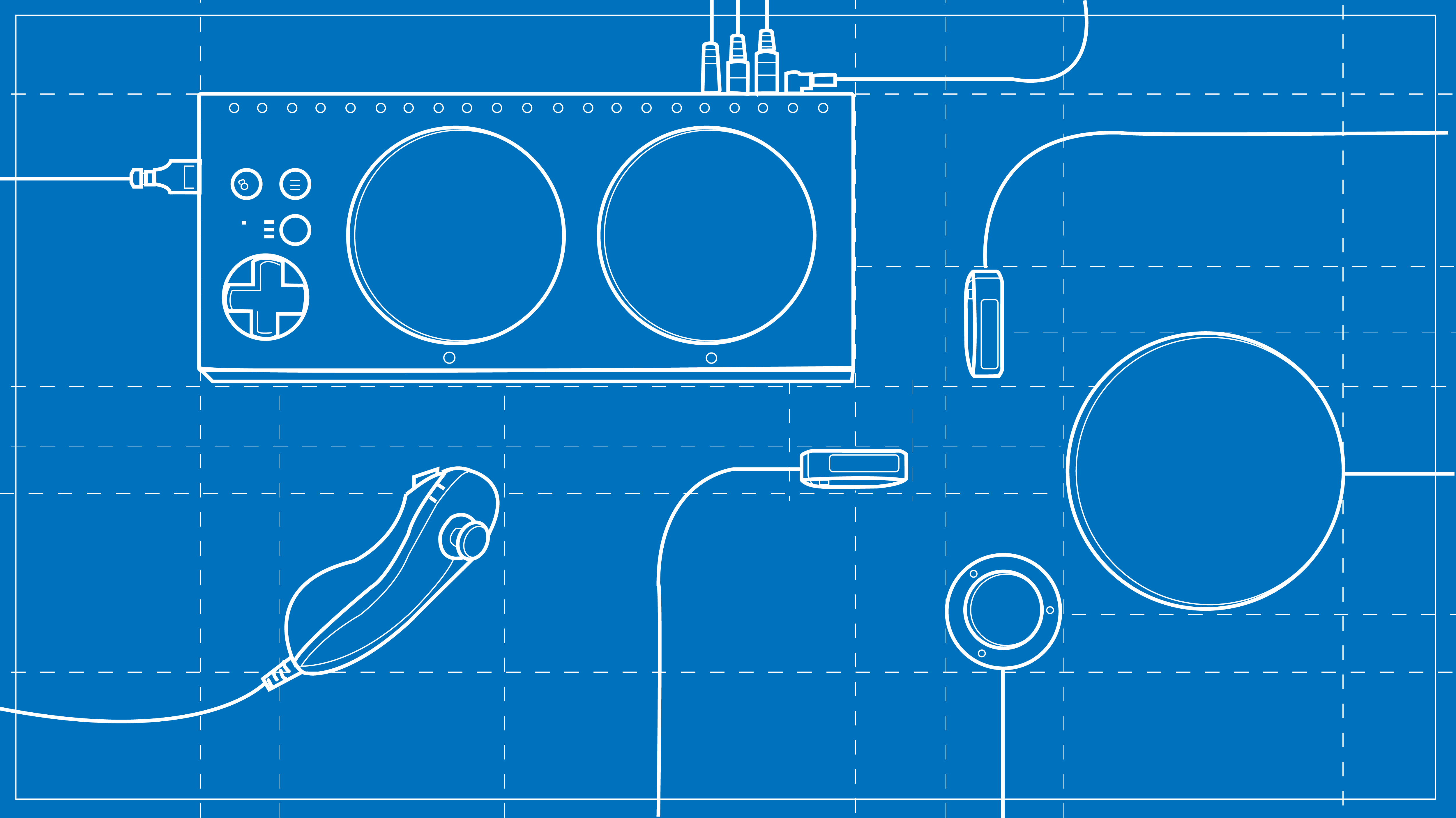 As described on Xbox's website, the XAC is "designed primarily to meet the needs of gamers with limited mobility. The Xbox Adaptive Controller is a unified hub for devices that helps make gaming more accessible."
An All-Encompassing Hub
The great thing about this "controller" is that it essentially acts as a hub for additional adaptive devices and assistive technology for gaming. A key distinction is that the hub is designed specifically for the console it is intended for.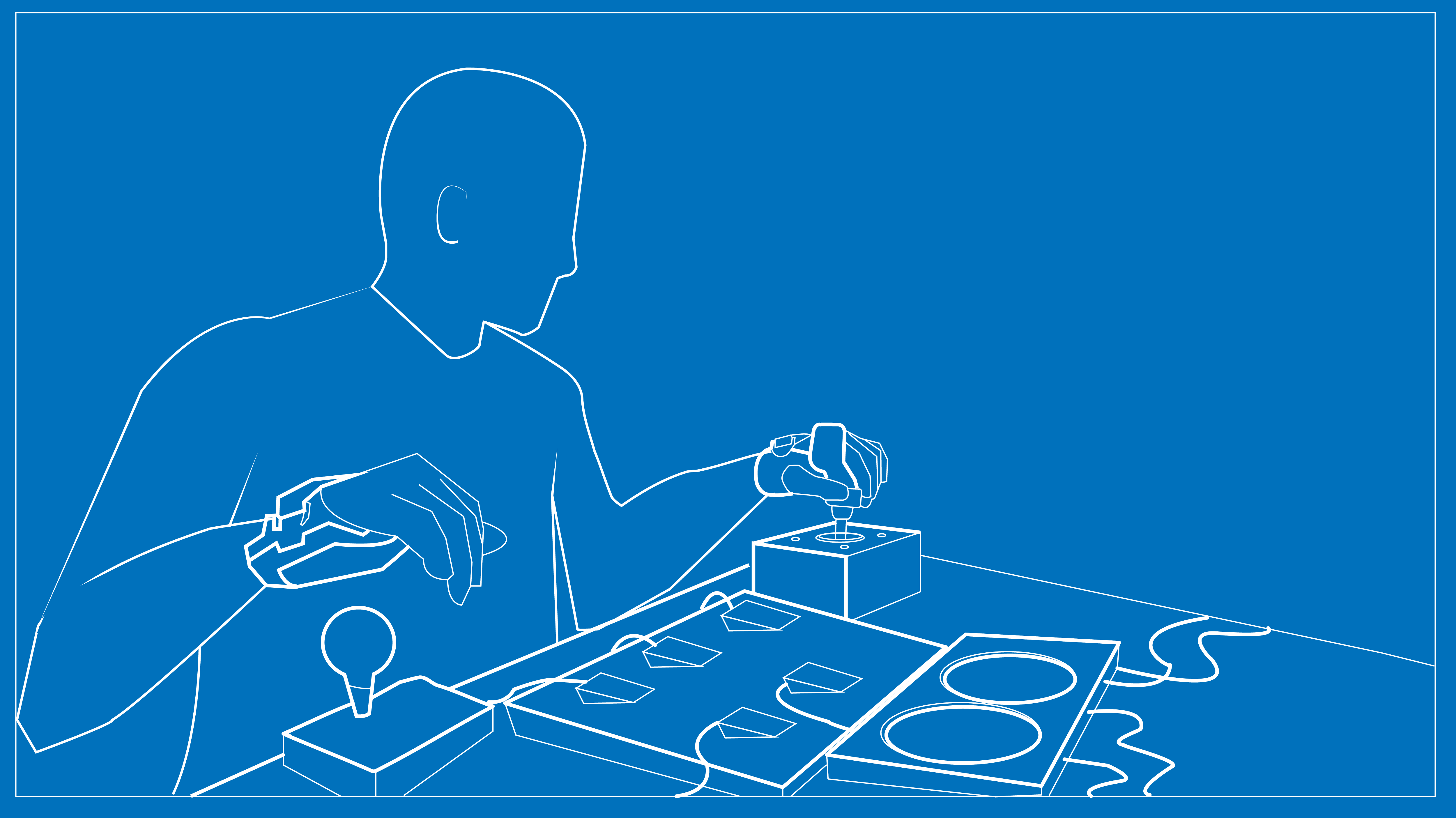 The XAC acts as a centralized location to easily organize and implement options for a variety of assistive technologies that can be added as needed, including various switches, joysticks, foot pedals, etc. It's important to note this was designed with the help of those with lived experience in requiring accessible gaming options.
Having a controller hub designed by the company whose console it is meant for reduces friction and confusion related to compatibility and setup, which is often found in some third-party options. Xbox also goes a step further than some other gaming companies, demonstrating a willingness to invest in accessible hardware to ensure their desired experience is within reach.
Another incredible feature Xbox has created is Copilot. According to the Xbox website, "Copilot links two controllers so that you and another gamer can use them as if they were a single controller. This can be useful when one gamer needs assistance with their console." This is a great alternative for players who either can't afford necessary equipment or need additional help.
An Investment of Time and Money
A downside is the high cost of investing in this equipment. Additional accessories are often required for gamers to make full use of the XAC; an unfortunate reality to using assistive technology. It's important to ensure the design of these additional accessories is "future proof," meaning it can be used for several years and can adapt to any updates the console may experience along the way. This ensures the players' investment is a longer-lived one.

Another critique is the level of assistance needed during initial setup. I experienced this during my time as an occupational therapist, and it can potentially confuse less tech savvy players. Continuing to work on even further simplified designs and setup would benefit many.
Playstation's Big Improvements
Playstation is a beloved gaming system that has been around for generations and has a diehard fanbase (much like the other systems on this list), but has been criticized for lack of focus on accessibility in past years. However, Playstation has thrown a lot of force behind this recently, and it's become one of the bigger highlights in their advertising.

Improvements in Software. Unrealized Hardware Potential.
In terms of adaptive controller options, not many come directly from this gaming giant. Most of Playstation's accessibility focus is on software features, which of course, is critical to any gamer. However, hardware adaptations leave some room for improvement.
In my research for this article, I discovered the Back Button Attachment. While this doesn't appear to have been designed specifically for accessibility, it certainly has potential to allow for unique button remapping for some who lack fine motor control or dexterity. For example, they can remap controller schemes to use the back button instead of the pesky trigger buttons on top of the controller.
It isn't quite enough to capture the diverse needs of users who have impacted hand use, but it allows for more options, which is a good start!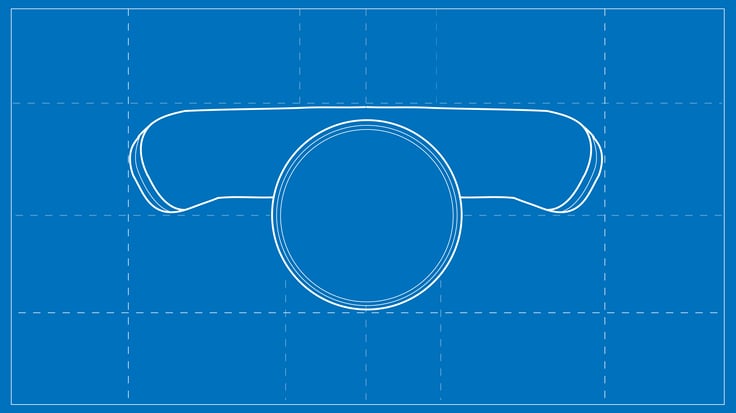 Here are some features Playstation lists on its website regarding their accessibility features for controllers, specifically for the PS5:
Custom Button Assignment: Change the function of your DualSense controller's buttons, so the most important actions are in easy reach.
Vibration Intensity Settings: Turn off the Vibration intensity of the DualSense Wireless Controller or change to Weak, Medium or Strong (standard).
Trigger Effect Intensity Settings: Turn off the Trigger Effect intensity of the DualSense Wireless Controller or change to Weak, Medium or Strong (standard).
These are all excellent steps to take in improving access and comfort for all gamers. The recent advances in accessibility features and software within the PS5 is promising for Playstation's accessible future. These types of features, such as custom button assignment and trigger effect intensity settings, are particularly effective when adaptive controllers are needed. Providing an adaptive controller option or hub similar to Xbox's XAC, made specifically for the Playstation console, would be a great next step for the gaming giant. Software features can only take users with physical impairments so far, and relying on third-party products can often be a hassle.
Nintendo's Bundle of Joy(Con)
For my examination of Nintendo's controller accessibility, I'll focus on its latest console, the Nintendo Switch. Switch doesn't offer any adaptive controllers that I was able to find. However, there are some great controller mapping options available in its software, and the size of the Switch's controller, named the JoyCon, has been praised by some with physical impairments.
Small Controller, Big Options
The JoyCon is smaller, and vis a vi, lighter than other controllers on the market. This helps players who experience hand weakness and poor coordination by enabling them to focus less on holding the controller and more on button control. Additionally, the JoyCon typically doesn't restrict you to one particular position, allowing players the freedom to hold it in ways that work best for them (i.e., horizontal vs. vertical), or even rest it against other objects, reducing the need to hold it all together.
The smaller size also makes it more practical for one-handed gamers. With the option for players to create up to 15 unique button layouts, Nintendo has some great options to offer those with physical impairments.
Always Room to Grow
Nintendo could make improvements by continuing to add accessories for those who rely on assistive technology and accessibility features. Currently, many within the community rely on artists, designers, engineers, or therapists they know to create unique modifications for them to improve manageability. It would be great to see an expanded catalog of accessibility accessories for the JoyCon and continued research with users.
What Else is Out There?
While many of the top gaming companies are making impactful strides in accessibility options for their software, a lack of console-specific hardware options for those with physical impairments has sparked a boom in third-party options. Here we will take a brief look at some of the most popular or effective options available.
This company, regardless of its name, has been a powerful source of good among the accessible gaming community. They offer a wide array of customizable options. Our own AnswerLab research studies have revealed many gamers will wait for options from companies like this to play on new consoles due to the lack of options from gaming companies themselves. For many with accessibility needs, Evil Controllers has become the de facto controller company. And there's a lot to love about these little devils.
Players are able to select the controller for the system they want, and then build a customized version of that controller that works for them. This highly customizable option for all of the major gaming consoles is a significant resource. However, time and cost to create such controllers can impact some players. Designing controllers while having accessibility in mind from the beginning strongly helps its adaptability for iteration. If a player requires additional modification, it would save time and money if the foundational design is already accessible. Regardless, this company remains one of the strongest options for those who play with physical impairments and require specialized adaptations.
While not officially on the market, IGN recently shared an article about a YouTuber who created a one-handed adaptation for the PS5 controller using 3D-printer technology. I've also personally seen these types of 3D-printing adaptations for the Xbox from assistive technology professionals in my LinkedIn network. 3D-printing options can lead to a whole new market of adaptive controller add-ons that could greatly benefit players at reduced cost and effort. UX research can help assess how designs could benefit a larger population of those who rely on one-handed gaming and require increased assistance for coordination and strength. Having mass-produced add-ons like these, with the help of widespread user research, could create accessible controller add-ons worldwide at reduced costs without requiring full re-design of existing controllers.
The Hori Flex is essentially Nintendo's response to the Xbox Adaptive Controller, created by the Hori company and licensed by Nintendo. An all-in-one controller HUB that allows players greater flexibility for controller mapping and use of various assistive technology accessories for the Nintendo Switch. In addition to the strengths, the same downfalls may be present, including cost and complexity for initial setup using different accessories. It's also only available in limited markets at the moment.
While not yet updated for current generation models, the Quadstick is an option that enables people with quadriplegia to play games, regardless of severe lack of motor control. A simple USB controller, compatible with Nintendo Switch, PS3, and PS4, this design allows for input while gaming that can withstand rough, inaccurate movements. It can be modified for lighter or heavier springs to account for muscle strength grading, and even includes mouth-control options for those who severely lack upper extremity strength and range of motion. Limitations may include cost, difficulty with initial setup, lack of compatible consoles, and slower general updates compared to other gaming controller options. More research can help improve that.
So, What's the Big Deal?
Gamers are a passionate group, and consist of many diehard fan factions. Brands who stay ahead of the curve with accessibility options will continue to win the hearts and minds of those loyal fans. Investing in adaptive designs improves access to gaming for all, allowing these companies to sell products to wider audiences, which becomes a win/win for their bottom-lines. Not to mention, it enables passionate players to overcome their barriers to enjoy games, be social, build self-efficacy, and just have fun.
Even those who don't rely on accessibility options can always benefit from them (think curb cutouts in sidewalks or automatic doors). It also helps continue to build and improve on gaming communities that consist of those with different needs and desires. The more people we have to play with, the more fun we can have.
Companies can always continue to do better at ensuring accessibility, and users will continue to remind them of this need. UX research and design can help bridge the gap between the two.
Will You Take the Challenge?
I now challenge UX researchers, UX designers, and all associated with these fields, even passionate gamers who don't work in technology, to continue advocating the need for accessible gaming. Accessibility not only for software, but hardware as well. The more inclusive these consoles can be, the bigger the worldwide network of gamers can continue to grow, the more joy can spread, and the more connections can be built through the power of gaming.
Particularly for my UX researchers out there, keep pushing for ways to discover how we can assist those with physical needs in designing consoles and accessories that meet their needs, at affordable prices, and make gaming as easy and fun as possible for them.
Let's get out there and take gaming to the next level, for all the current and future gamers. So, what exciting designs do you have in mind?
Written by
Anthony Guarriello
Anthony Guarriello, a member of our AnswerLab Alumni, is a UX Researcher who specializes in accessibility, healthcare, and gaming research. Following a career in occupational therapy, where he specialized in neurological rehab, assistive technology, and low vision disorders, he now uses his experience to conduct UX research. Anthony values shining a light on the needs of underserved populations and trends in emerging technology, which he hopes will lead to a brighter future for all. Anthony may not work with us any longer, but we'll always consider him an AnswerLabber at heart!
stay connected with
AnswerLab
Keep up with the latest in UX research. Our monthly newsletter offers useful UX insights and tips, relevant research, and news from our team.