Posted by Amy Buckner Chowdhry on Mar 23, 2022
Originally published on LinkedIn on March 22, 2022
User Experience Research has reached an inflection point. Our dependence on digital experiences to be a functioning society accelerated dramatically in the last two years. And as a result, user experience has never been more important. Fortune 500 companies now realize that to build inclusive products that work for everyone, they must follow a human-centered design process.
Every business function wants user insights, and increasingly, applying end-user insights in decision making has become everyone's responsibility. Unlike our counterpart business function Market Research, UX Research has been deemed indispensable to building digital experiences that succeed. During the pandemic's height and resulting recession in 2020, we saw UX research budgets not only hold steady but also grow. Demand for UX research has never been greater.
At the same time, building a best-in-class, scaled UX research organization has never been more difficult. Today, experienced UX researchers, being in high demand, have a choice of where to work. They are looking for highly-empathetic, caring, human-centered workplaces – cultures that are few and far between and difficult to create overnight.
In addition, in larger organizations, research teams often report into design, product, or engineering rather than a central UX research function. Such a reporting structure is essential for integrating insights deeply into development processes. But fragmented reporting structures create scale issues. Major brands frequently struggle to develop organization-wide, optimized research processes and best practices without a centralized UX research department.
Fragmented UX research teams can also often procure and conduct research in a fragmented, ad-hoc way. Teams spend thousands of inefficient hours contracting and scoping—hours that could be better deployed to more strategic activities. Lack of centralization also results in un-needed research topic redundancy. And finally, without executive-level UX research representation, many researchers find limited opportunities for career advancement and have limited training and development opportunities focused exclusively on UX research. Due to all of these factors, attracting and retaining top UX research talent is becoming more difficult for the Fortune 500.
Rapid growth and longevity in our field have allowed us to think differently about solving the problems of UX research scale that enterprise companies face. For the past 18 years, we have been building an inclusive, human-centered work culture, which has placed us in a unique position to attract and retain the best talent at a better rate than industry benchmarks. We have leveraged this advantage to design and experiment with new client engagement models that drive greater strategic impact while meeting the exponential demand for UX insights.
We believe that 2022 will be the beginning of the end of project-based, ad hoc research programs across a fragmented set of UX research partners as the primary way brands get the insights they need.
Instead, the industry will shift to developing enterprise-sized—Enterprise Research—approaches ​​that match the demand for insights to the size of the organization. We know this because we've been building them for the most influential tech companies in the world and have seen their dramatic impact.
What is Enterprise Research?
Broadly speaking, Enterprise Research is a category of strategically designed insights programs with dedicated teams providing continuous research to support an organization's rapidly growing need for insights.
We have been creating two models of Enterprise Research for major brands. The most robust and emerging model is a full-fledged UX Research Center of Excellence (CoE), which involves building a large, centralized team of 20-50 UX researchers, UX research ops project coordinators, or both who embed with multiple product teams across a defined business unit. Model two is called a Flex Research Program and is simply a smaller building block of a large-scale Center of Excellence.
A Flex Program typically involves deploying a smaller tiger team of 1-4 researchers to embed with a product team, conducting research exclusively for that team over a 1-2 year contracted period. The team shifts priorities as the product team's insights needs mature over time, continuously bringing the right set of UX research methodologies to bear at the right moment.
For the past three years, we've been building and running UX Research Centers of Excellence (CoE) for major brands. These CoEs develop repeatable, integrated research processes that ensure every new feature or product receives the required insights necessary for optimization before launch while providing unparalleled efficiency and integration in the UX research function. AnswerLab synthesizes insights across research conducted, provides detailed metrics on the operational aspects of the program, and uses continuous improvement to ensure we are constantly creating tighter alignment with product teams. Our Centers offer an unparalleled, macro operational picture of research conducted across the business unit, particularly around time-to-insight, overall quality, and inclusiveness of participant recruiting.
Both of these Enterprise Research approaches have resulted in significant positive shifts in our client's businesses:
AnswerLab designed, launched, and operationalized a Research Operations practice that supports multiple product teams for one of the largest tech companies in the world. The CoE is focused on recruiting a hard-to-reach user segment across product teams and supports 100 projects a month while continuously improving processes and efficiency across their operations.
AnswerLab's leadership of a Flex Program for a leading financial brand has freed the in-house research team to scale their organizational impact. Our team meets the demands of their agile product development schedule, and the client team can focus on strategic activities.
In six months of a mixed-methods program for an e-commerce brand, we conducted quantitative and qualitative research with 3,000+ participants across eight countries. The insights supported the team in the development of a global payments platform.
Old way:

Project-based ad hoc research, fragmented across teams & vendors

Emerging future:

Flex Programs and UX Research Centers of Excellence

Inefficient contracting process across thousands of studies distracts UX leaders from doing important work

Inconsistent teams of researchers working across projects due to limited visibility into the full body of work needed

Last-minute client requests resulting in potential for research partner to not meet preferred deadline

Client-driven project delays resulting in down-time for the research team and thus scope change fees

Siloed workstreams that lead to missed opportunities or duplication of research efforts

One pre-negotiated contract over 1-5 year term gives back ~10 hours per study to UX leaders to deploy in more impactful ways

Consistent UX research team who knows the client's business processes more deeply than the client




Dedicated team always available to meet research needs with immediacy

Retainer-style contract structure allowing maximum flexibility in research timelines

Efficient workstreams that provide visibility and connect efforts to enrich user understanding

UX Research Centers of Excellence additional benefits: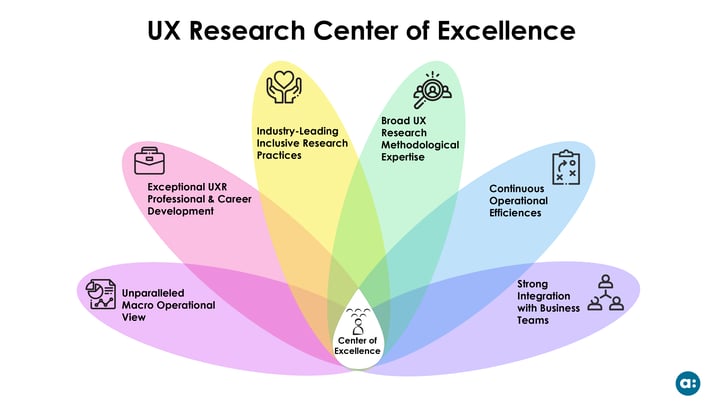 Deep Expertise in Inclusive Research Practices:
Many of our clients struggle to ensure their company cultures and products create inclusive experiences. By partnering with AnswerLab across the organization, business leaders can be sure that a diverse team will solve their insights problems while bringing an inclusive recruiting and research process to the organization. We apply our inclusivity pillars of representation, respect, and safety to every project. And our recruiting process increases representation from historically underrepresented groups, bringing those perspectives to product teams at some of the largest companies in the world.
Outsourced Support for Professional & Career Development:
Time-strapped and focused on growing their influence, UX leaders need UX Research Centers of Excellence and Flex Programs to free up their own time to drive insights through the organization. We have observed that many UX leaders prefer scaling their research practices with a partner because they can outsource the professional development and learning programs necessary to create a positive work experience for researchers, thus increasing team retention. They can also rely on the research partner to provide an optimal career ladder focused exclusively on UX research skills and roles. AnswerLab's People & Culture focus, mentoring, and learning and development programs drive superior retention metrics for our dedicated client teams, which is especially appreciated as our clients manage through the "Great Resignation."
Access to Breadth of UX Research Methodological Expertise:
Conducting research well requires a high degree of skill and deep knowledge of the particular approach being applied. No single researcher can be an expert in every research methodology and up-to-date on the nuances of every experience domain. As more organizations rely on insights to make product decisions, teams are finding themselves short on expertise. Either they need expertise they don't have in-house, or their internal experts don't have capacity. Access to our purpose-built UX researcher community provides a full library of research methodologies and expertise in a range of industries.
Shift to Centers of Excellence Part of Larger Trend:
UX research's shift from project-based work to Centers of Excellence is not unique to our industry. Engineering teams have been engaging with partners in this way for over two decades, driving the creation of Infosys, Genpact, and Cognizant, and the eventual business model shifts of the Big 4 Accounting Firms into digital services. It's only natural that a business process so fundamental to a company's digital success but so difficult to scale would eventually need integrated partners with deep UX research domain expertise and a genuinely human-centered work culture to help meet organizational and market demand.
Now is the time for UX leaders to think more strategically, and less episodically, about how to drive UX insights across the organization. Contact us today to discuss your UX research goals.
Written by
Amy Buckner Chowdhry
Amy Buckner Chowdhry founded AnswerLab over a decade ago to help the world's leading brands build better digital products. Under her watch, AnswerLab has grown to become a trusted UX insights partner to companies like Google, Facebook, Amazon and more. She was named one of Fortune's 10 Most Promising Women Entrepreneurs, one of EY's 10 Entrepreneurial Winning Women, one of San Francisco Business Times' Forever Influential Women Business Leaders, and Watermark's Top 10 Women Who Have Made Their Mark.
More about Amy→
stay connected with
AnswerLab
Keep up with the latest in UX research. Our monthly newsletter offers useful UX insights and tips, relevant research, and news from our team.