It's no secret that retailers are struggling. Profits are shrinking due to the massive shift to online shopping and Amazon's dominance in the market. In this environment, retailers must now behave like digital leaders and prioritize user experience above all else in order to survive this holiday season. Last year, Target invested extensively in their end-to-end digital experience and saw online sales increase 30% in November and December. Here are three ways to leverage UX to beat holiday forecasts:
Eliminate Friction from Your Online Experience:
While online shopping offers unprecedented speed, control, power, and choice, it also places a huge transactional burden on the consumer. That burden manifests itself in cognitive overload, micro-annoyances, and decision fatigue. Remember the last time you tried to fill out an online form and received an error message. And consider this: 2.5 million results show up in search for an iPhone 7 phone case on Amazon. Most of the time, online shopping is still a frustrating experience.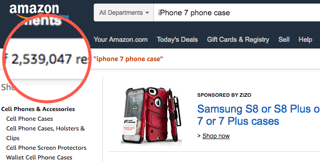 Retailers must invent new ways to eliminate road blocks in the buying process to gain and keep customers. Amazon is leading the way with Dash, Echo, and Subscribe & Save. Shoppers can now receive consumable items without even visiting their computers, much less a store. Here are a few ways you can make online shopping easier for your customers:
Ensure you offer tools that deliver convenience like in-store pickup, same-day delivery, and one-touch ordering

Aid in decision-making with buying guides, online shoppers, chatbot support (done correctly), and effective comparison / filtering tools

Review survey data and results from usability studies to address points of frustration one-by-one until they're gone
Elevate Mobile Experiences:
Last year, more than a third of all Black Friday online sales came from mobile. In fact, 60% of Wal-Mart's online orders on Black Friday came through mobile devices, an increase of 50% from the prior year. While a desktop computer offers a larger screen to view more items and have multiple open tabs, mobile devices are portable, convenient, and ubiquitous - and more socially acceptable to use around family during the Thanksgiving holiday. To offer an exceptional mobile user experience:
Identify shopper pain points and areas of opportunity by evaluating your current mobile web and app experience with user research

Follow mobile experience best practices; learn more from

this study

authored by

AnswerLab

and Google

Use the summer to build, usability test, and iterate on new features and functionality before the holiday season starts
Design for the Journey, Not for the Device:
While investing heavily in improving your mobile experience will be critical, don't lose sight of the fact that most consumer experiences are omni-channel. A single transaction journey will involve multiple touch points with your brand - mobile, desktop, email, and store. Each of these touch points must work together to tell a unified story and provide a cohesive experience for customers. Here are strategies to ensure your team doesn't fall into the trap of device-only design:
Break through organizational silos

Leverage cross-functional teams who take a holistic perspective

Ensure you have foundational tools like personas and ideal journey maps to help guide design decision-making

Craft user research to evaluate the cross-platform experience rather than only one device
As Amazon continues to win shoppers through easy everyday shopping, retailer competition will remain stiff in the upcoming holiday season. To compete, store-based retailers will need to focus on improving their digital experience and leveraging their brick-n-mortar presence as a strategic asset in the shopper journey.
Amy regularly shares insights about user experience, digital leadership, research, and culture. If you'd like receive future posts in your inbox, subscribe to our newsletter below. Also feel free to connect on Twitter.