We're continuing the conversation on research with teens. Last week, we shared why you should conduct research with teens, the kinds of sessions we find most effective, and moderation strategies our team uses to foster connection and uncover rich insights. Today, our Research Operations team is weighing in on the logistical side of things.
So you're ready to conduct research with teens. You've designed your study, prepared your mod guide and prototypes, compiled your topics and questions, but how do you actually get them in the room? Recruiting the best-fit participants for your research is critical to getting the insights you need. Without the right people in your research, you won't get valid and impactful findings. We've shared our guiding principles of recruiting before, but when it comes to teens, it can be trickier than your average recruit.
Creative approaches to recruiting young people
Remember, regardless of how you recruit young people for research, whether through their school, social media, or a traditional research panel, you'll always need their parents' permission for them to participate. Remember to build that step into your process from the start!
Minors can't sign up for research panels, so often our recruiting partners start by finding parents in their database who we know have kids in the right age group at home. We reach out to them to ask if they're willing to let their teen talk with us, and once the parents go through an initial round of screening questions, they'll hand it over to their child to finish off the screening process. We ask a series of questions to determine if they're right for the study, meet our criteria, and understand what they're signing up for.
While that's a very traditional way of recruiting this population, and it often works fairly seamlessly, there are a number of more grassroots approaches to reach teens that can be even more effective. For example, you might reach out to a middle or high school teacher, school administration, or community group to see if they would be willing to share flyers or information with students. Some of our recruiting partners have direct relationships with schools that help with this approach. Research can be a learning experience for teens and a chance for them to help shape the products they know and love. And, it can expose them to different career paths and industries they've never considered before! Many schools and teachers may want to offer that experience to their students and encourage them to take advantage.
Targeted ads on social media platforms are also very useful in reaching teens where they are. We've seen companies use existing user lists or even conduct polls within their app or on their site to screen users accordingly and reach out within their app experience. Once the person responds to your ad or expresses interest in research, you'll need to get their parents' permission before proceeding. You can also try referrals or personal connections. Ask around if anyone knows a teacher at a local school who might share the information or if anyone you know or work with has kids who meet the requirements. We've even used social media apps like Nextdoor or Facebook to reach more personal connections through organic sharing.
Ultimately, when trying to recruit teens, we find there are two main best practices:
1. Closely coordinate with parents about timing and commitments.

While in a typical study you only have one participant to communicate with, here you have two. Parents need to know what's expected of their child and where they need to be and when. Clear and open lines of communication with both the parent and participant will help ensure your study goes smoothly and details don't get lost in the shuffle.


2. Engage with them where they are.

Always keep in mind that you may need to use different avenues and methods to meet teens where they are. Sometimes you'll need to reach out to participants via text or social media DM instead of a typical phone call, or use targeted ads to let them know about research. Get creative with your communication methods and be prepared to try and fail a few times before you find something that works.


Tackling logistics and timing
Scheduling
Research with teens used to be really logistically challenging when the preference was to do this research in-person. We saw a number of obstacles due to timing with school schedules, extracurricular activities, and other commitments. Typically, research would need to start after school had let out and any short after school commitments were over with enough time to get to the lab (around 4pm). Because of these time constraints, research with teens usually stretched over more days than your typical study. For example, you could only conduct six interviews over two days, running from around 4pm-7pm each day. For in-person research, parents also had to accompany participants to the lab, sign the NDA on their behalf, and wait for them to complete the session. We always planned for a larger incentive to split between the parent and participant to compensate for both of their time.
However, now that we're all conducting research remotely, this is a great time to prioritize research with teens. Young people are home from school, extracurricular activities are less frequent or are happening online, and there's a lot more flexibility in their schedules, which solves for the tricky challenges of in-person research.
With remote studies, you can reap the benefits of a national recruit, which not only gives you access to a more diverse range of participants and perspectives, but also allows more flexibility in your session timing. For example, if your researcher is based in the pacific time zone, you can begin interviews at 1pm PT, start with east coast students, work your way across the country by time zone, and wrap up with west coast students.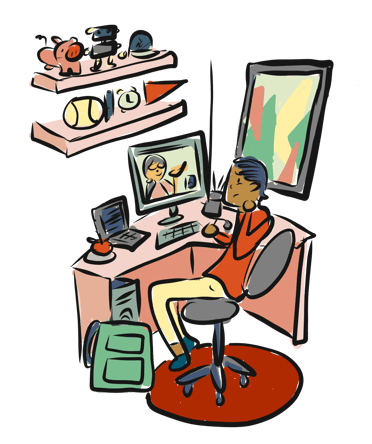 Given the current situation, you're able to flex your session schedule with more kids home from school or on summer break. Some students have scheduled video calls for classes during the day, but many are doing more independent study, meaning time isn't as strict as it once was. We're hearing from participants across the board regardless of age that they are more available for research than ever before. There is significantly more flexibility in your session schedule now, making this an invaluable time to invest in teen research.
Consent forms and NDAs
Minors can't sign the typical research NDAs and consent forms. Instead, their legal guardian must do so. But unfortunately, that means they don't always understand that sessions are supposed to be confidential at the same level.

Because of this, we always build a few questions into our screener to ensure participants understand what they're signing up for. For example, we communicate that people may be observing the session, that it's being recorded for internal purposes, and that their comments and observations may be included and anonymized in research reports. We also make sure they understand the confidentiality and security of the session, clearly outlining that they are not allowed to take written notes or screenshots or share any information about what they see or hear during the research.
Have more questions about research with teens? Contact us to learn more about our research capabilities.