Here at AnswerLab, we help brands bring a human-centered design process to every product they launch. We believe humans should be at the heart of every design process in order to create experiences people love. One way to do this? Design Thinking.

Design Thinking is a human-centered design methodology that starts and ends with continuous user insights. A product or brand team can practice design thinking in five phases, generating ideas, testing them, and improving them throughout the product development lifecycle using constant user feedback. Recent research from McKinsey shows that companies who put a strong focus on design achieved 32% higher revenue growth than their counterparts who did not. So, there's a true business value to this approach!
Design Thinking allows your team to plan, optimize, and measure products so you can feel confident that your digital experience is meeting user needs. But, something we're often asked is how to incorporate research into the design thinking process. What methods are best to use at each stage? What can my product or brand team do today to make sure we're meeting user needs?
The answer lies in finding the best research technique for each phase of design thinking. Here are our recommendations for how to tackle design thinking with the right questions and methodologies to ensure you're getting the most out of your user insights.
Empathize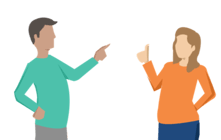 Design Thinking begins with practicing Empathy to understand a user group's motivations, environment, goals, and barriers to achieving those goals so you can design with their needs in mind. In the words of Stephen Covey in The 7 Habits of Highly Effective People, teams need to "seek to understand, rather than be understood."
The primary goal of this phase is listening to and observing what people think, say, do, and feel, allowing you to understand the "why" behind their words and actions. You can dive deep to understand the user's context and identify problems the product can solve. Results and insights from this research can provide data on the biggest pain points, needs and motivations, environmental factors, and rich opportunities for innovative solutions. In this phase, we recommend conducting research that allows you to see the user in depth, such as contextual observation, ethnographies, or in-depth interviews. You might also conduct a diary study to understand a user's needs over time.
Define
Next is the Define phase where you explicitly define the problem you're trying to solve for the user. Too often, teams want to create a solution first, but defining the problem at the start is important. Don't skip ahead! Otherwise, you run the risk of launching a solution that doesn't solve a real customer need. In these phases, user research techniques provide directional insight and validation to answer questions like: Are we solving the right problem for our customers? Of all the problems we could solve, which solution will be most valuable to our users? Are we going in the right direction?
At this stage, you might use a focus group or surveys to get diverse feedback from a larger group or a card sorting exercise or A/B testing with individual users to help you prioritize problems or solutions to focus on.
Ideate
Once your team identifies the problem you need to solve, you can begin to ideate on potential solutions. To start, begin with a wide-open brainstorm with limitless possibilities to generate the most ideas. Try inviting cross-functional team members to get varying perspectives and even conduct a secondary review of your ideas to assess their feasibility. Hopefully, by the end of this phase, you'll have ideas for prototypes you can get user feedback on in the next phase. During ideation, workshops with stakeholders can help you with brainstorming, discussing, and prioritizing your ideas.
Prototype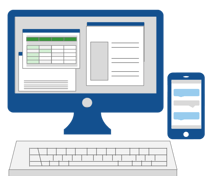 Prototyping is crucial to getting preliminary user feedback on your ideas. While prototypes can range in fidelity from sketches to clickable prototypes to working code, the important part is that they represent the idea enough for a user to realistically interact with it and provide feedback. Remember, it's far less expensive to discover your solution won't meet user needs during research sessions than after product launch. And, your team can pivot and refine the product using the feedback to better meet user needs.
In this phase, a prototype is just a hypothesis of what the team thinks a user may or may not find valuable. User research can provide data that can prove or disprove that hypothesis. Are users likely to use this? Are there red flags? Which design do they prefer? Can people use this easily? To get this feedback, we recommend conducting usability testing, in-depth interviews, A/B testing, and iterative testing to get concrete feedback on your ideas.
Measure
Now, we come to the final phase: Measure. Here's where you get to see behavioral data showing what a user actually does when using a product or brand experience. These metrics can track the new experience performance against business goals or set a benchmark for a future redesign. These insights inform the team what to tackle in post-launch phases to optimize the experience or set the course for future strategy.
In this phase, you'll want to focus on key metrics using quantitative surveys or behavioral analysis and analytics reviews. You can also conduct a benchmarking study for ongoing UX measurement.
...
Design-thinking is an iterative, non-linear process–think loops, not lines. No matter what phase your team identifies as a starting point, talking to your users at every step of the way can only help ensure you're creating experiences that people love.