When we create our UX research labs, our goal is to make spaces that support getting the best possible research findings. With over a decade of experience building and evolving research spaces, we've learned that you have to consider optimizing for the experience of every role in the process. In order to produce the best results, you need a comfortable space for the participant and researcher to have an open and productive conversation, and stakeholders need to feel inspired and invigorated by the insights, not drained after a long day of sessions. So, what's our formula?

Ensuring your tech runs smoothly

The most common pitfall we find in user research is faulty tech equipment that breaks down or doesn't record. To ensure you don't have to stress about your prototype not being available, tech falling apart, or recordings being compromised, we've created a system that prepares for these incidents and prevents any issues that may arise. Not only do we have state-of-the-art technology, but we have backups to prevent data loss. Our screen view of the stimuli, video feed of the participant, and audio feed of the room all run independently of one another so, in the case of a failure on one system, you're not losing data across platforms.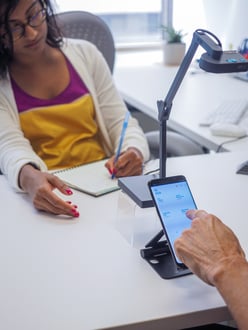 On top of that, our labs are only used for user research. Often, when you go to a facility, the rooms could be used for all sorts of studies and the set-up changes drastically from one day to the next. As a researcher coming in for a day of sessions, it can be nerve-wracking to arrive unsure if the set-up will be just right. In our labs, 90% of the time our labs are used for user research and every room is set up by our tech experts, so there's no leaving the set-up to the last minute and the researcher can focus purely on the insights.
We have full-time on-site tech support available at all times during a study from set-up to completion. In the event that a prototype fails or a tech issue arises, our experts can troubleshoot quickly and easily, ensuring the research continues on schedule. And, throughout this process, the researcher never needs to worry about the tech set-up or failures. They only need to focus on the research itself.
Developing a functional and inviting observation room
Every client likes the research but no one likes sitting in a dark room. In many research labs, you see the traditional two-way mirror to the back room, and therefore, the observation room has to be kept dark and quiet. This is one of the many reasons why we don't use two-way mirrors, but instead, have completely separate viewing rooms.
Our observation rooms have a dual screen viewing experience, so you can see the stimuli on one screen, a video feed of the room on the other, and sound is wired directly into the room. Because there's a clear separation, clients don't have to worry about keeping their conversations quiet or sitting in a dark room all day. We find that natural light, beautiful views, and open conversation allows for stakeholders to leave feeling invigorated, refreshed, and motivated to take their research findings to the next step.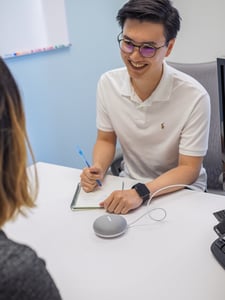 Creating a comfortable space for participants
We never want participants to feel like they're being watched. This is just another reason why we've abandoned the two-way mirror. Instead, we create lab spaces with natural light and a welcoming set-up so participants feel comfortable sharing their true thoughts. When showing the participant the stimuli, we use mirrored screens so the moderator can sit across from the participant and look at their own screen instead of sitting next to the participant. This makes it so they're always looking at each other eye to eye and conversation happens naturally. This layout is also important so we don't have to adjust the cameras, as the participant is always in the same position and facing the right direction.
Have more questions about our UX Labs? Need help running a study?
Let's talk.