Posted by Mitra Martin on Sep 8, 2020
This article is a part of The Human-Centered Work Project, a hub of research-based insights and resources on redesigning work. The following insights come from research illuminating ways that white supremacy culture may be expressed in the remote workplace to provide tools and guidelines to help allies move forward with impactful cultural workplace change.
While AnswerLab has already made a great deal of investment in fostering an inclusive culture, we know we have more to learn. As global conversations turned towards creating anti-racist environments, we decided to initiate a project to use what we do best — research — to develop insights that would help us and companies like ours foster an anti-racist workplace culture.
Our research explores the experiences Black, Indigenous, and People of Color (BIPOC) individuals have in corporate life. We've been humbled by our participants' generosity in sharing their stories with our team. Through this, we've developed a deeper understanding and compassion for the inequity they experience on a day-to-day basis, and we feel an even stronger will to contribute to the change process.
In future articles, you'll learn more about the subtle and not-so-subtle ways in which conventional corporate culture reinforces white-dominance. But first, let's discuss how we built the foundation for conducting anti-racism research.
How do you change the system when you are the system?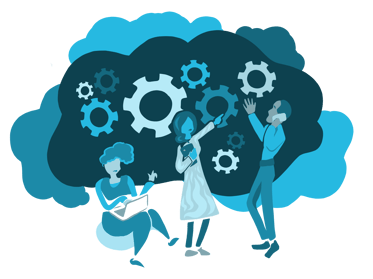 Transformative change requires more than using the usual research tools and methods to derive mental insights. Guided by Theory U, a framework from MIT's u.Lab for understanding systemic change, we knew that approaching this research with an open mind, the first prerequisite of the change process, would not be enough.
We'd also need to be willing to bring an open heart: letting ourselves feel the emotions of being on this delicate and challenging journey with our coworkers and research participants. Finally, we knew we'd need to be truly committed to an open will: the courage to take brave and meaningful action based on what we learned.
Many systemic change scholars have posited that change requires a research process that includes looking inward. As Otto Scharmer, the creator of Theory U, writes, "In order to become instruments for real transformative change, we have to bend the beam of attention back onto the observing self." We were ready to look inside as well as beyond our walls.
Learn about our journey:
---
Building the project team:
Bringing together the right people and giving them the space to be themselves
The potency of the work we're able to do comes from the humans who are doing it and the social field they create together. In each of these areas, we discovered our own limitations and strengths, and learned how to approach this project with even more awareness.
Diversity
We saw diversity as a baseline for this project. The teammates who responded with enthusiasm to help co-create this research were multi-racial, and brought together a wide range of subject matter expertise including cultural anthropology, research operations, content marketing, systems change work, facilitation, and leadership.
BIPOC agency
Our intent was to create a space of deep agency for our BIPOC coworkers. As beneficiaries of systemic racism, the non-BIPOC research community at AnswerLab wanted to show our willingness to steward this work — and to invite BIPOC participation in whatever way they felt compelled and comfortable to contribute. In the process, we made mistakes and learned what can get in the way of this. We are so thankful for the grace and generosity of our BIPOC coworkers.
Deep care
Members of the research team had shown great interest in allyship through participation in internal workshops related to inclusion and contributions to internal channels on race-related topics. Our team understood the weight of these topics and felt a duty to approach them with care and intention.
Willingness
We knew this material would be emotional and brought together a team who was willing to explore and unpack difficult and likely stressful material. We worked hard to create a supportive environment for this work, and encouraged everyone to share openly, listen deeply, and remember to prioritize self-care.
---
Starting with a literature review:
Engaging with what's come before and applying it to ourselves
So much has been done in the field of critical race theory and white supremacy; we didn't want to reinvent the wheel, so we started with extensive secondary research.
In the process of a wide-ranging literature review, we discovered the work of educator and changemaker Dr. Tema Okun, whose cultural framework guided our approach in many ways. In her classic piece on white supremacy culture, she identifies fifteen characteristics that often manifest in organizations of all kinds.
We were struck by the specificity of these white supremacist characteristics and immediately began exploring how these qualities manifested both at AnswerLab and in Fortune 1000 companies. Even further, we wanted to understand how these were experienced by those most affected by systemic racism.
In our first weeks carrying out this work, we've already begun seeing ourselves differently through the lens of conventional white-dominant culture. When we looked in the mirror, we saw five of the characteristics of the Okun framework coming through in our own research process:
Sense of urgency
Fueled by a desire to contribute to recent global dialogues, we pushed ourselves to move faster and created timelines without fully understanding the complexity of the work we were doing. We even missed opportunities to include everyone's voice in how, and by when, the work would be done, and to build in flexibility.
Individualism
We used conventional ways of getting work done with a "divide-and-conquer" approach, with individuals taking on chunks of work that felt discrete. But, we didn't always realize how subtly interconnected everything was. At each step along the way, we discovered we needed multiple perspectives and rich collaboration as a project team.
Either/or thinking
As we started both internal and external recruitment, we imagined it would be easy to utilize simple race-related categories. In the process, we discovered just how complex and nuanced these categories are, and how much finer our instruments need to be to bring the right people into the room. In the process, we learned about our teammates' experiences of race and identity.
Worship of the written word
When we began, we believed that the outcome of this work would be written content. Now, we know that this content is only one piece of a transformational journey taking place within each of us, within our team, and within AnswerLab. The more important outcome is the accumulation of transformative epiphanies we ourselves are experiencing as we exchange one another and our participants. We're approaching each conversation as sacred, instead of just those aspects of our work that can be captured in writing. This is also why we plan to share tools, discussion guides, and other resources from our research to help others engage in conversations with their teams.
---
Research with our own employees:
Learning what it takes to see our own company with fresh eyes
As we began this process, we wanted to hear frankly from the Black people at our own company. What was their experience like? What was missing? What did AnswerLab just "not get" when it came to Black folks? The following helped us design an open listening session to hear their ideas:
Creating a safe space
Warm, personal 1:1 invitations were extended to Black employees. We explained that the session would be confidential and that the transcript would be anonymized and shared exclusively with the researchers on the team.
Designing the session
We wanted the session to feel spacious, not tight and packed, with plenty of room for open connection. We designed a few discussion prompts, but encouraged the facilitator to improvise and build upon them based on what she was hearing from the group. Download our discussion guide templates for your own use.
Facilitation
We invited people outside our research team to co-create this journey with us, and this has proved invaluable. Shakima Jackson-Martinez, our Diversity, Equity, and Inclusion (DEI) lead, generously came forward to not only advise this study from the beginning, but also facilitate the internal listening session.
Much of what made our listening session so open was her combination of attributes: the leadership role she plays in DEI at AnswerLab, her extraordinary and compassionate presence and capacity to hold space, as well as her own racial identity and experiences.
---
Research with others:
Discovering the range of experiences of others across the U.S.
In addition to looking inward, we spoke with BIPOC employees at Fortune 1000 companies across the country to understand their experiences with corporate life. We wanted to hear their stories, identify common themes, and create materials and resources that could help companies build inclusive and anti-racist environments for the future of work.
Our first set of findings surfaced a need to redefine "professionalism." We found that most characteristics and models of professionalism were built by and for white men, and are not conducive to inclusive and supportive work environments. Our team identified a number of ways for companies to break down these traditional standards and rebuild what "professional" means in their workplaces.
Our research with external participants is ongoing, and we plan to share more findings and recommendations in the coming weeks. Sign up to be the first to hear about new research and tools.
---
Take a look in the mirror
How did companies like ours come to have a culture with these characteristics? In our secondary research, we learned that the American work ethic itself emerged out of abusive productivity standards that originated during the American Colonial period when plantation owners enslaved Black Africans. These standards continue to be reflected in structural elements that reduce the agency and wellbeing of the individuals and teams closest to the work.
Instruments that control and constrain how a worker's attention and time is used to create concrete, measurable results — such as quarterly goals expressed in timelines and quantified in timesheets — foster a workplace that's likely to have the characteristics of white-dominant culture as expressed by Okun.
Giving all employees the agency to participate in designing and planning the work they will do is a clear first step in creating a more spacious workplace culture. Individuals must have the ability to consent to plans that involve them and have the time they need to carry out work in an inclusive and healthy way. Timelines must be flexible by default, allowing for the complexity of a project to emerge and have space.
While designing for agency and flexibility is important, particularly for BIPOC individuals, it's even more critical to consider in the context of a pandemic. Many individuals are not only employees, but also caregivers, nurturing their families and communities in deeply involved ways. They are also increasingly having to support and manage home-based learning programs. Some are experiencing the intersection of all these pressures.
To address this, start by looking inward as we did to ask how all employees can play a role in building the future of inclusive workplaces.
| | |
| --- | --- |
| | Take action: |
Become familiar with Okun's white supremacy framework.

Think hard about how the characteristics it identities may be expressing themselves in your day-to-day work experience, name the qualities you see to begin a process of understanding where they come from. For instance, if you experience a sense of urgency, reflect on the norms or structures that contribute to this.


Agency, agency, agency.

Agency is the capacity of individuals to act independently and make their own free choices. Managers need to scrutinize how old patterns and structures may inhibit agency and work to identify these, and create new norms that allow everyone to feel control over their work.


More communication.

When discussing complex, nuanced, and potentially emotional topics with diverse teams, create opportunities for informal conversation and informal feedback between team members.


Learn about awareness-based systems change work

to develop your toolkit and see the skill gaps you may have as you embark on a project that has a cultural change component.

Learn more about the origins of The Human-Centered Work Project and sign up to be the first to receive the latest findings and resources.
Written by
Mitra Martin
Mitra Martin is a UX Researcher at AnswerLab where she leads research to help fortune 500 clients identify and prioritize insights that improve their business results.
stay connected with
AnswerLab
Keep up with the latest in UX research. Our monthly newsletter offers useful UX insights and tips, relevant research, and news from our team.